Sales CRM & Marketing Portal
Expertise:
Custom Web Development
Customer Relation Management (CRM)
SalesScripter is a web-based app provides tools and templates that help users to always know what best to say and ask when talking with sales prospects. SalesScripter provides a library of sales scripts, templates, and tools to sales pros helping them to improve their prospecting and lead generation efforts. Users can use the standard templates or customize with their own information by answering a few questions.
Time Duration 09 Months

Team Effort 05 Persons
Business Needs
Our client required an intuitive and user-friendly system with high performance speed to support multiple networks of users at same time. The portal contain content, blogs and static pages therefore we need to design a user-friendly interface with outstanding connectivity to all the pages of home page. Additionally, clients required algorithm to discover questions which extract all key details of business while ensuring safe and secure data transfer. Key requirements of the portal includes:-
CRM functionality to track interaction, contacts and accounts
Enable to send and automate delivery of email via sale scripter
Easy to use and impressive portal
Reduce the redundant and inaccurate system entries
Emails were converted into leads and posted into the custom CRM software
Solution
According to the deliverables and client requirements we suggested for PHP. We choose Word Press as an open source CMS. In order to execute the project we assigned dedicated team. Once we did the complete development, we had to deployed all the codes and files to server. The team has been consistently monitored by the Project Manager to make the website live.
Flexsin developed a robust and easy to use tool which takes all the answers provided by the experts and plugs them into a deep library of sales scripts and templates. These templates not only save time to create all messaging from scratch, but also test the formats and techniques which are used by templates.
Front-end
Our designer team did their best efforts to carve a unique design which was in line to client expectation. We create a user-friendly portal with elegant UI and advanced feature functionalities. The key features includes:-
An innovative front site layout
Clear navigation and high performance
Sales force integration
Clear reports and forecasts
Easy access to Email templates
Enable Interactive Sales Script
Backend
The team has been continuously researched to make the features compatible as per the desired frameworks and technologies. Our backend developers closely worked with front-end engineers to ensure the system consistency and improve user experience. By integrating CRM web portal we delivered a new channel that deliver extra scale and greater choice to the customers with appropriate solutions.
Used PHP coding
Word press utilized for open source CMS
JAVAScript/AJAX for front-end
Maintain Content Management System
Worked on opportunity management to help sales individuals to connect with the right prospects
Development process
An agile development process was used with an intense discovery phase. We deployed a dedicated team to HTML developer, senior developer, business analyst and a testing engineer to complete the project within estimated time. Our aim was to develop and maintain functional and stable portal to meet client needs.
Used latest technologies to enhance portal performance
Build and deployed the portal
Created CRM Solutions
Write algorithm and codes
Perform UI tests to optimize performance
Client's Feedback

Flexsin Review and Feedback

I continue to be impressed with your ability to manage our project requirement since the beginning. ..

Michael Halper

Owner : Salesscripter, USA
Success
We have developed robust and easy to use sales CRM & marketing portal with unique features and functionalities. We are glad that our client was satisfied with work and successfully using it for while generating good revenue. Our endeavors benefit clients as well as its users by offering:-
Bring good traffic rate that enhances our client ROI
Help in improving customer services
Allow users to access the exact information they need, whenever they need it
Offer better sale support that increasing sales and keeping customers happy
Streamline the whole process
Screenshots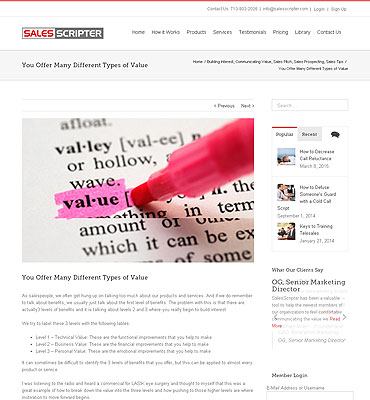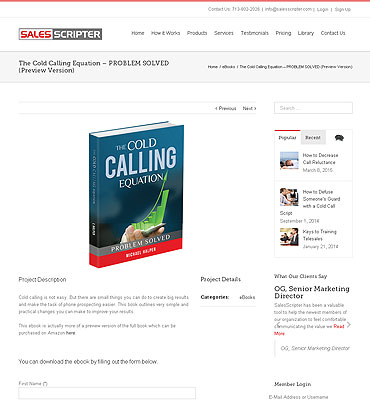 Client approached Flexsin with their need to have an efficient employee checklist system in place wherefrom they could assign various tasks to employees and have access to a checklist about the status of task's progress, finished and unfinished tasks...
Seeking to support and offer recruitment solution, our client turned to Flexsin for the design and development of a user-friendly, responsive web portal for employers and candidates, which offers Hassle free recruitment process UI along with ...