Online eCommerce Platform For Furniture And Decor Products
Experties:
Custom Web Development
E-commerce Solutions
Verticals:
Retail & eCommerce
Technology
Technologies:
Magento
Plugin Development
Mysql
AWS
Paypal Recurring Payment
Paypal Plus Payment Gateway
Our client, Casagear has an established online e-commerce platform that deals in decor, furniture, electronics, furniture, music gears, pets, sports, kids and kitchen dinning products. They bring latest collection of products and provide outstanding shipping with no geographic boundaries. Client knows the importance of customer's time, so they offers a wide range of products in each category that makes Casagear.com a one-stop shop for diversified needs.
Time Duration 06 Months

Team Effort 05 Persons
Business Needs
The client required an e-commerce website with all the functionality features to sell their products belongs to different categories. They want attractive and user-friendly website that users can easily operate and buy products through online in easy and quick manner. The prime needs of the project includes:-
Product catalog
Product feature listing
Ordering system
Secure payment system
Product shipping module
Payment gateway integration
Strategy & Solution
From development to testing, Flexsin was responsible for the whole project. As the project was very huge and client has different requirements so we divided it into different phases and created strategies to accomplish each task. We deeply analyzed the client requirements and setup a team of experienced developers, designer and project manager to manage the project.
Website was developed in Magento and since there is a customized requirement from the client, we ensured that core functionality of Magento should not be hampered so we developed layered navigation out of the Magento so that it can be work as plug and play. The Major challenge was to have the customized Indian payment gateway so the payment of the customer would land directly into the client's account and this has been handled successfully with our customized extension. Moreover, there was no extension in the market to match this functionality.
Front-end
Our team UI designer and UX engineer work collaboratively and developed a best website designed with amazing easy navigation functionalities. We focused was to choose the most creative and useful technologies to enhance user experience. Finally, we achieved our goal by developing a website with amazing features:-
Easy to operate user-friendly interface
Build the website to load faster
An easy to use checkout
Feature-rich ecommerce website
Full size of product image with high resolution
Easy ordering system
Backend
With our core expertise we designed this entire website to make it beneficial for users as well as client in saving time and money. We utilized the perfect combinations of latest technologies and database system to enhance website performance as well as for maintained its huge database. In backed process we worked on:-
JavaScript and HTML is used to deign user-friendly interface
Magento is used for Website development
MS SQL Server database for storing data
Provide authentic real time product information
Ability to edit categories, subcategories, and products through website back-end.
Development Process
As website it was E-commerce website, we studied the market for trendy and lifestyle needs. From initial setup to development phase, we maintained the integrity of website and this is a reason why website is famous in the United States of America. Our developers successful achieve the different website requirements like listing product with detailed features, process of admin to add/ edit/ delete product color, etc. During development phase, our developers also worked on different aspects that include:-
Integration of payment gateway
Choose right platform for website development
Robust and responsive website
Organized and easy to use a backend
Identify the product/service, and the customer
Client's Feedback
Flexsin is very professional in order to handle work and pressure. I recommend Flexsin for developme..
Arvind Sidhu
Owner at Casagear, USA
Business Outcomes
Once launched, our delivered e-commerce website starts bringing good profit for the client. Implementation of scalable platform enables our client to rich it's wider audiences and increase their profit rate without spending much effort and money. Now, users are buying their choice of luxurious and stylish items from the website and enjoy hassle free and convenient shopping experience. The website offers various benefits to customers and client too.
Overcome geographical limitation by opening the door of shopping worldwide
Enable to locate product information, catalogue, etc.
Offer best collection of stylish and luxurious items under one roof
Attract new customers with search engine visibility
Decrease the cost of inventory management
Keep the client store open for round the clock
Screenshots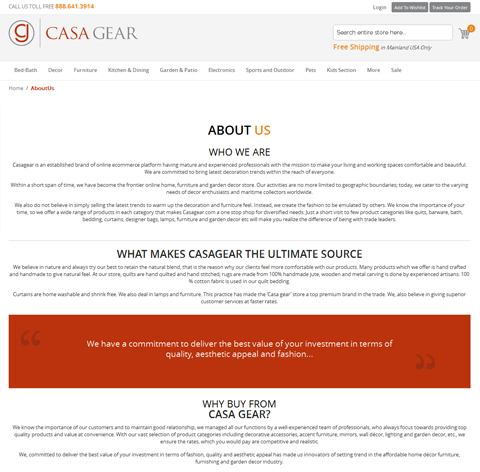 Success Stories
Discover our growing portfolio of digital products and technology solutions that accelerate business transformation for global enterprises and SMBs from different verticals.