Our Portfolio
Striving to exceed client's expectations always. We leverage our knowledge
to satisfy client's needs within their budgetary constraints.
Home Decor Online eCommerce Platform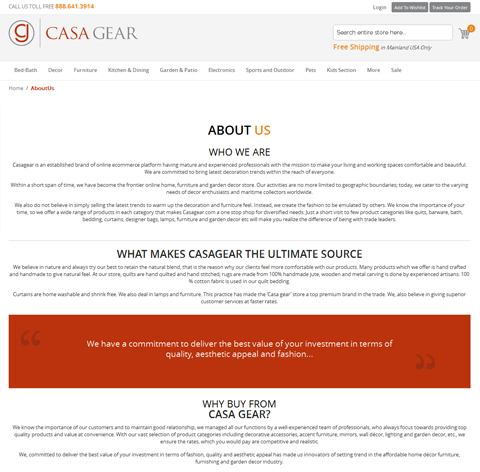 Project Overview
Casagear is an established brand of online e-commerce platform having mature and experienced professionals with the mission to make customers living and working spaces comfortable and beautiful. Website is committed to bring latest decoration trends within the reach of everyone. Within a short span of time, website have become the frontier online home, furniture and garden decor store. Website activities are no more limited to geographic boundaries; today, client cater to the varying needs of decor enthusiasts and maritime collectors worldwide. Casagear also do not believe in simply selling the latest trends to warm up the decoration and furniture feel. Instead, website create the fashion to be emulated by others. Client know the importance of customers time, so website offer a wide range of products in each category that makes Casagear.com a one stop shop for diversified needs. Just a short visit to few product categories like quits, barware, bath, bedding, curtains, designer bags, lamps, furniture and garden decor etc will make customers realize the difference of being with trade leaders.
Project Challenge
Website was developed in the Magento and since there is a customised requirement from the client, we ensured that core functionality of Magento should not be Hampered and we developed layered navigation out of the Magento so that it can be work as plug and play. The Major challenge was to have the customised Indian payment gateway so the payment of the customer would land directly into the client's account and this has been handled successfully with our customised extension. Moreover, there were no extension in the market to match this functionality.
The Endeavor
We as a professional looked in the requirement of the client and setup a team of experienced developer for the website. As the website is e-commerce in nature, we study the market for the trendy and life style needs and from the initial setup to complete development, we maintained the integrity of the website and this is the reason that the website is famous in United States of America.
Client feedback
Flexsin is very professional in order to handle work and pressure. I recommend Flexsin for development.
Arvind Sidhu Owner at Casagear, USA