Transform Digital Capabilities For Healthcare Industry With Emerging Technology Trends
Healthcare is evolving at a fast pace, and more and more businesses in the industry are metamorphosi...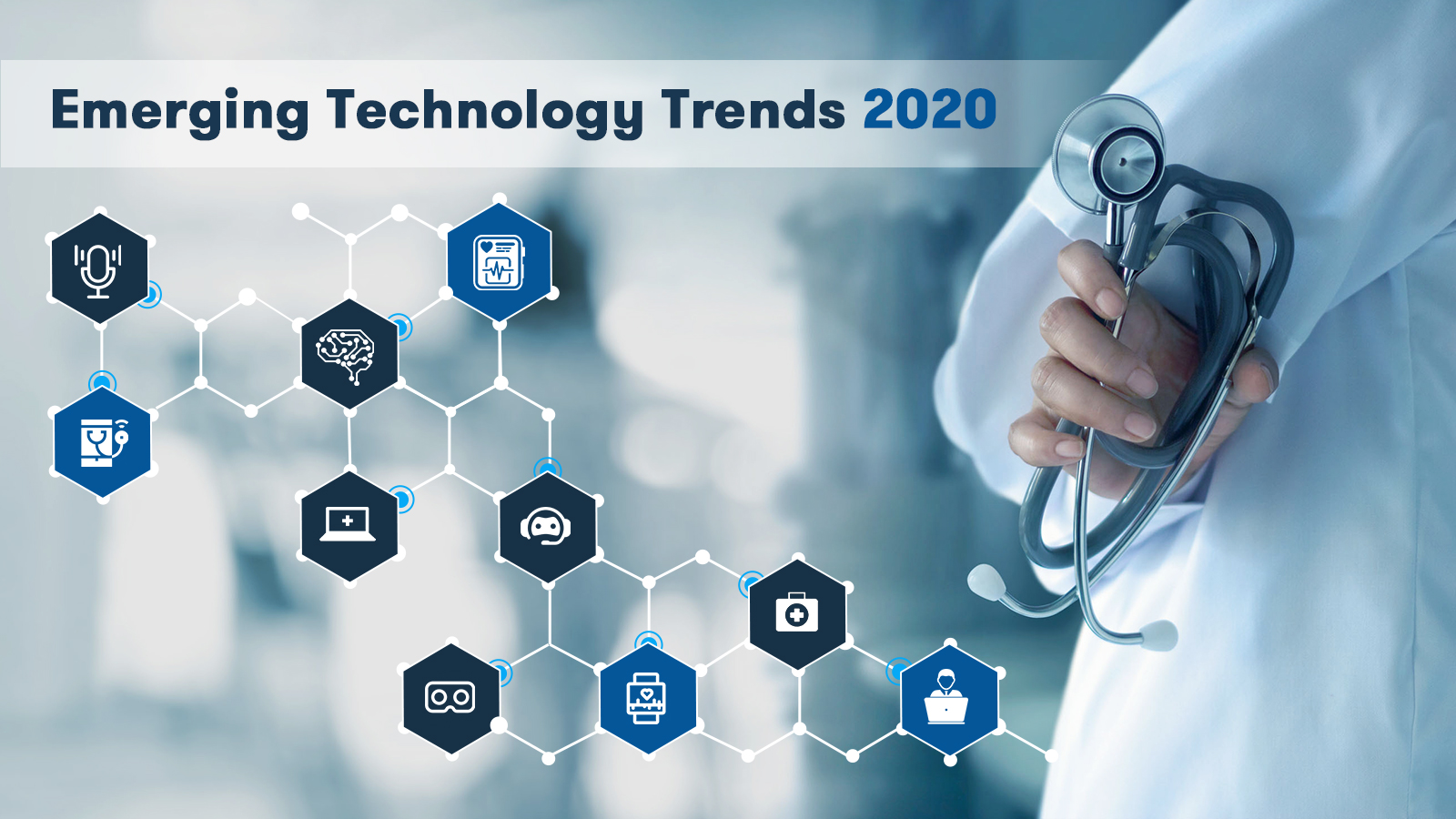 Healthcare is evolving at a fast pace, and more and more businesses in the industry are metamorphosing with software development that delivers upgraded value of information with ease of access for the healthcare professionals and patients. There has been a convergence of healthcare software and business to drive a better consumer experience.
Health software and IT trends are helping the industry to become more agile and improve quality of care for the patients. So, it's important to take advantage of the healthcare trends in 2020, so that you do not fall behind in the long run.
Internet of Mobile Things (IoMT)
Internet of Mobile Things or IoMT that includes wearables such as ECG monitors and EKG will help in assessing critical parameters such as blood pressure and glucose level for efficiently managing an individual's health. IoMT systems and mobile healthcare applications will drive increased availability of data sets analysis and medical product development. 20 to 30 billion IoMT are expected to be deployed in 2020.
AI-driven healthcare applications
AI-driven healthcare applications will see an increased use in diagnostic processes and medical procedures in 2020. This will help in increasing the accuracy of data and patient outcomes.
Blockchain in healthcare for interoperability
Secure storage of critical health-related information in blockchain will see an extensive use in healthcare industry in 2020. The technology has already facilitated drastic improvement in interoperability. Healthcare information can be exchanged and edited with better integrity through blockchain's public-private keys. Issues related to counterfeit drugs could be effectively addressed with all transactions logged into a blockchain-based system by a healthcare software development company.
Chatbots
AI-backed voice and messaging systems can efficiently handle routine inquiries that will help the healthcare professionals to focus better on their core functions. Practitioners can utilize smart bots as digital assistants for keeping better track of their appointments and making changes in an effortless way. Chatbots are expected to become a big part of healthcare industry in 2020, where an automated system could be able to replace an expert opinion, and will be subjected to GDPR and HIPAA compliances. When connected with analytics and AI, chatbots can even warn about potential drug interactions.
Virtual care and on-demand care
Virtual care has become increasingly popular with remote patient monitoring. The demand for healthcare is increasingly shaped by mobility, and virtual care provides the healthcare professionals with the option of the least expensive care. Connected devices and on-demand care will become increasingly more mainstream in 2020.
Telemedicine software development
The cloud-based telehealth software systems will allow for interoperable telehealth software-as-a-service (SaaS). Physicians can easily share clinical data and remotely monitor patients with HD video conferencing.
EHR and EMR implementation
Electronic hospital record (EHR) and electronic medical record (EMR) mobile apps will allow for real-time access and editing of patient and hospital data with cross-platform mobile healthcare software. EHR and EMR implementation can be effectively used for the valuation of legacy medical record systems.
Voice activation
With the rise of wearable devices, voice activation is gaining momentum. It's growing faster than even the mobile and web. The technology will transform the healthcare industry like never before.
Custom healthcare software development
One size never fits all; so many organizations go for custom software to reach better outcomes. Some key benefits that you can get by hiring a healthcare software development company for custom software development include the below ones:
You can optimize clinical workflows to deliver personalized care
Intuitive tools to address particular needs of healthcare professionals
Confidential health data can be safeguarded from malicious attacks and system malfunctioning
Patient identification and medication tracking
Healthcare functionality with real-time monitoring
Predictive and prescriptive analytics
Clinical content management and laboratory management
 Seamless data can be achieved with third-party systems, and many more
The focus in 2020 will be on all-in-one healthcare system ecosystem that can help track care journeys for the patients with holistic health profiles. Custom healthcare software can help doctors, nurses, pharmacists and researchers access every piece of information about a patient in real-time and instantly for better patient care. Disability-conscious design for patient-facing system will help in improving the usability and ease of use for patients with disabilities, that
Custom healthcare software development involves many stages such as:
Requirement analysis for user needs and system requirements
Choosing the right technology and framework for development process
Meeting the regulatory, compliance and usability requirements
Testing, deployment and ongoing technical support
So, you need to have a custom healthcare software development company with proven credentials to help you with your specific needs for custom healthcare software development.
Software with a healthy value
Being a trusted healthcare software development company, Flexsin Technologies is capable to provide cutting-edge healthcare software development services to clients in healthcare business. With over 10 year of experience in providing technology solutions to businesses across industry verticals, we can help your build scalable and secure custom healthcare software solutions using finest development methodologies to improve patient care quality with the technology infrastructure best suited to your business needs. Flexsin can help you with electronic prescription software for secure transmission of prescription and medical tests between pharmacies and imaging centers, and help in decision support due to changes in patient care circumstances. Our custom healthcare software solutions can be used by hospitals, biotech companies, medical product manufacturers and research organizations.