Facebook ads that drive sales
On average, Facebook caters to nearly 1.18 billion active users every day. These users can range fro...
On average, Facebook caters to nearly 1.18 billion active users every day. These users can range from students, to companies, to CEOs. While the community is there, businesses face a lot of hurdles while connecting with its users-especially their target audiences-from a marketing standpoint.Facebook is a behemoth, so businesses can rest assured that its advertising channels will let them make a huge digital footprint. Facebook ads are a form of paid messages having specific goals-so once you have set its advertising goals right, you can leverage Facebook to promote itself everywhere across the internet. Choosing advertising goals is actually the very first step toward creating Facebook ads that can prove to be the whole nine yards for your business.
Plus, this optimization work will even ensure companies to make the most of their PPC budgets by having a pretty positive return on investments. So what's the best way to advertise to get the most of the benefits through Facebook Ads? If this question has been haunting for quite some time, then this post answers all that effortlessly. Here, Facebook ad formats are explained along with four components of such an ad.
Crucial components of effective Facebook ads
Improving visual experience
To be honest, visual content is never treated favorably in this social media platform's algorithm. But it is more likely to be shared and even remembered when compared with the share ability of written content. And what is the key giveaway for Facebook marketers? It does not matter the type of ad the company creates; it should have a very compelling visual.
Being socially relevant
A business spends money on its Facebook ads when a viewer clicks or views them. So a business has to produce relevant ads to have a profound impact on its targeted users. If, however, a company is churning out ads that are never relevant to its target audience, then it is seriously wasting its efforts, time, and resources. Remember: A good Facebook ad will have a relevant visual, a great copy, and an unambiguous destination page.
Including an exciting value proposition
If a company's Facebook ad has a compelling value proposition, then the audience will click on it to explore more. So, basically, the company will have to create a service or product that is different from its competitors. Plus, that difference should be conveyed well through a Facebook ad. Last but not least, the proposition should always be believable.
Creating a powerful call-to-action (CTA)
A relevant, beautiful ad is nice, but it should always have a powerful call-to-action. See different Facebook Ads and get inspired by countless CTAs, such as "Offer ends soon," "Explore now," and "Buy today and save 'X'%." In a way, the business should deploy such a CTA to encourage more and more visitors to click on the ad.
Facebook ads that transform e-marketing game
The Right Column Ad
This is the most traditional ad on Facebook, and it appears on the right-hand side of Facebook's News Feed section. This is the first-ever Facebook advertising, and it still exists today. Ads in News Feed may even get higher engagement metrics because of its native ad features. These ads have inexpensive clicks, so the conversion with such ads will never cost a bomb. One golden rule: Make such ads pretty short and relevant while having an influential CTA.
The right-hand side ads can be used for targeting users through demographics, behaviors, interests, connections, demographics, and custom audience. Facebook, now, ensures that every right-hand side ad is consistent with the News Feed one of the particular users.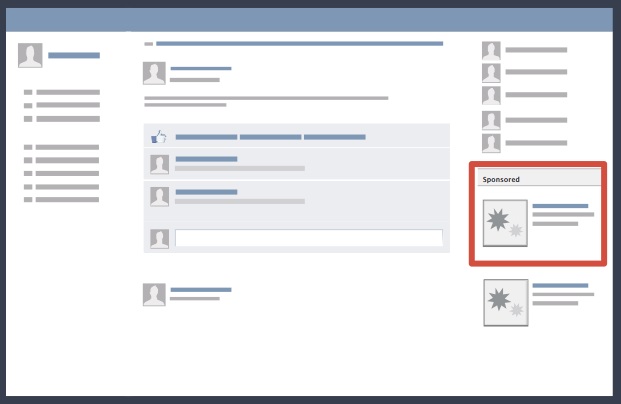 The Desktop News Feed Ad
This ad appears on the News Feed section whenever users access Facebook via a desktop computer. This advertisement will always appear more or less like native advertising. These ads may have higher engagement rates when compared with the ones boasted by right column ads. But these ads happen to be more expensive, too. While designing such an ad, the advertisers should follow best practices that are used for writing a creative Facebook post.
This ad will yield high returns when your ad is dynamic and visually appealing. In Desktop News Feed ads, businesses usually go with either video ads or photo ones. Companies, today, are picking to promote their businesses using advertisements having visual content. So if digital marketers want to unlock the full potential of this ad format, they must go with visual content.

Mobile News Feed Ads
These ads appear on a user's mobile News Feed and display only the organic posts that come from the Pages and People that users often follow. This ad format, like all other formats, should have relevant text, compelling visual, and a clear CTA to drive conversions to the next level.
As the name suggests, this format should have a brilliant copy because the real estate is pretty tight here. And if the copy is really short and powerful, businesses can even capitalize on a great visual as well.
These points must be kept in mind while developing a Facebook ad campaign. The company should know its advertising requirements inside out. If there is confusion, then the company should leverage the services of a reliable social media experts that know this Facebook ad campaign creation and execution inside out. Partnering with such social media ninjas will empower businesses to scale new walls on Facebook. Pun was intended.