Online Wedding Planner Platform for Couples & Suppliers
Expertise:
Web & Enterprise Portals
Marketplace & Collaboration
Verticals:
Technology
Consulting
Technologies:
Angular JS
Node.js
Mysql
MongoDB
Express.JS
Google Place API
ShaadiOn is UK's best Asian wedding planning platform, helps to solve all the wedding planning woes through its unique features. It makes sure that every Indian, Pakistani, Bangladeshi and Sri Lankan wedding that is organized in the UK is organized in a simple and efficient manner.
Time Duration 03 Months

Team Effort 04 Persons
Business Needs
Wanting to partner with leading software development professionals, the client wanted to build, design, and deploy a user-friendly platform for plugging the gap among wedding couples, planners, and suppliers. The client wanted to build a robust platform where couples can communicate with wedding planners and suppliers and plan their big day memorably without any hiccups. Another need was to develop an online platform, which should be controlled by highly organized administrator panel and have all the required admin manageable modules along with the multilingual management so the admin could add more languages to the web portal whenever is required. Some key highlights of the engagement are listed below.
User-friendly, a responsive web portal
The easy and efficient wedding process for Asian couples
Interactive UI along with easy accessibility anytime, anywhere
Facilitate brides/grooms to review, compare and book suppliers in a simple way
Strategy & Solution
The full-featured web portal has been crafted which allows managing all the things on the single platform. Our designing team put their best efforts to build a highly feature-rich, interactive platform with unique design as per the client expectations.
Front-end
Our dedicated front-end developers and designers build an interactive web design with a unique and feature-rich platform as per the client expectations. The front-ends of the web portal allow seamless access to the brides/groom to plan their wedding. It offers functionalities as per the set objectives of the client, such as:
Help bride/grooms to find their dream venue and suppliers
Compare and easily select the shortlisted suppliers and contact them all in one go
Negotiate and book suppliers instantly
Vendor Reviews from Facebook and Google
Backend
Our experienced Laravel framework development team worked on the project with proper planning, frame applicable online strategies. Therefore, we were able to develop a robust, simple, fast and easily accessible platform which allows to:
Close the deal and users can pay vendor online/credit card
Seamlessly manage wedding events from beginning to end within one system
Get a refund in case of couple change their mind
Fully customizable web portal with integrated messaging, booking and payment which help to save time and reduce stress
Development Process
We used an agile software development process during the developmental phase of the project under which requirements and solutions evolved through the collaborative effort of self-organizing and cross-functional teams and their context. We developed a robust and scalable platform using open source technology and follow the procedure for the development of the web portal
Analysis of the client objective and during the system analysis we design the system architecture and database in such a way that it could perform fast execution, on the other hand, it could also perform data integrity and security
Using the information gathered from the requirement analysis phase, we put together a plan for the development of web portals like technology, integration of social media Login API (Facebook), Google location API, and Google business API for interactive social networking among others
Web designer created one or more prototype designs for the portal. We closely worked with the designer, exchange ideas, until we arrived at the final design for the web portal
Our dedicated front-end and backend developers complete the functionality of forms or other scripts, as well testing for last minute compatibility issues

Client's Feedback
We would use them again. Great communication. Thank you guys..
Business Outcomes
As a result of best efforts, Flexsin developed a robust and easy to use online platform with unique features for brides/grooms and vendors. We were able to deal with each of these challenges and deliver the project with all the perfection within the desired time period. The platform is controlled by a highly organized administrator panel. For both couple and vendor, it is free and offers
Boost SEO and online presence
Get paid directly to bank account
All bookings and payments in one place
Easy to use messaging platform for bookings and quotes
24-hour cancellation policy in case couple change their mind
Aggregated hard earned reviews earned on Facebook and Google
Find perfect wedding vendors based on category, location & ratings
Keep all quotes and bookings in one place & Smart To-Do List for wedding tasks
Screenshots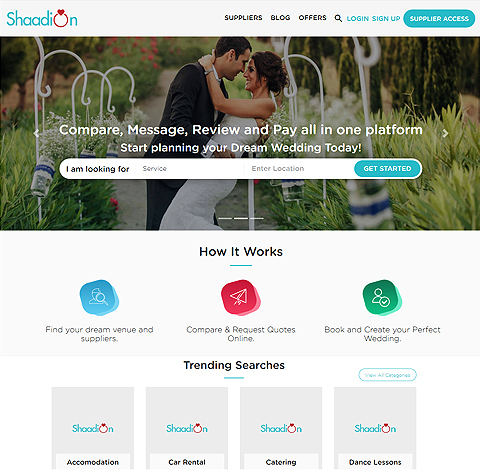 Success Stories
Discover our growing portfolio of digital products and technology solutions that accelerate business transformation for global enterprises and SMBs from different verticals.