Social Media Trends Empowering Businesses In 2019
New challenges, innovative formats, and fresh ways of engaging are all set to make 2019 an exciting ...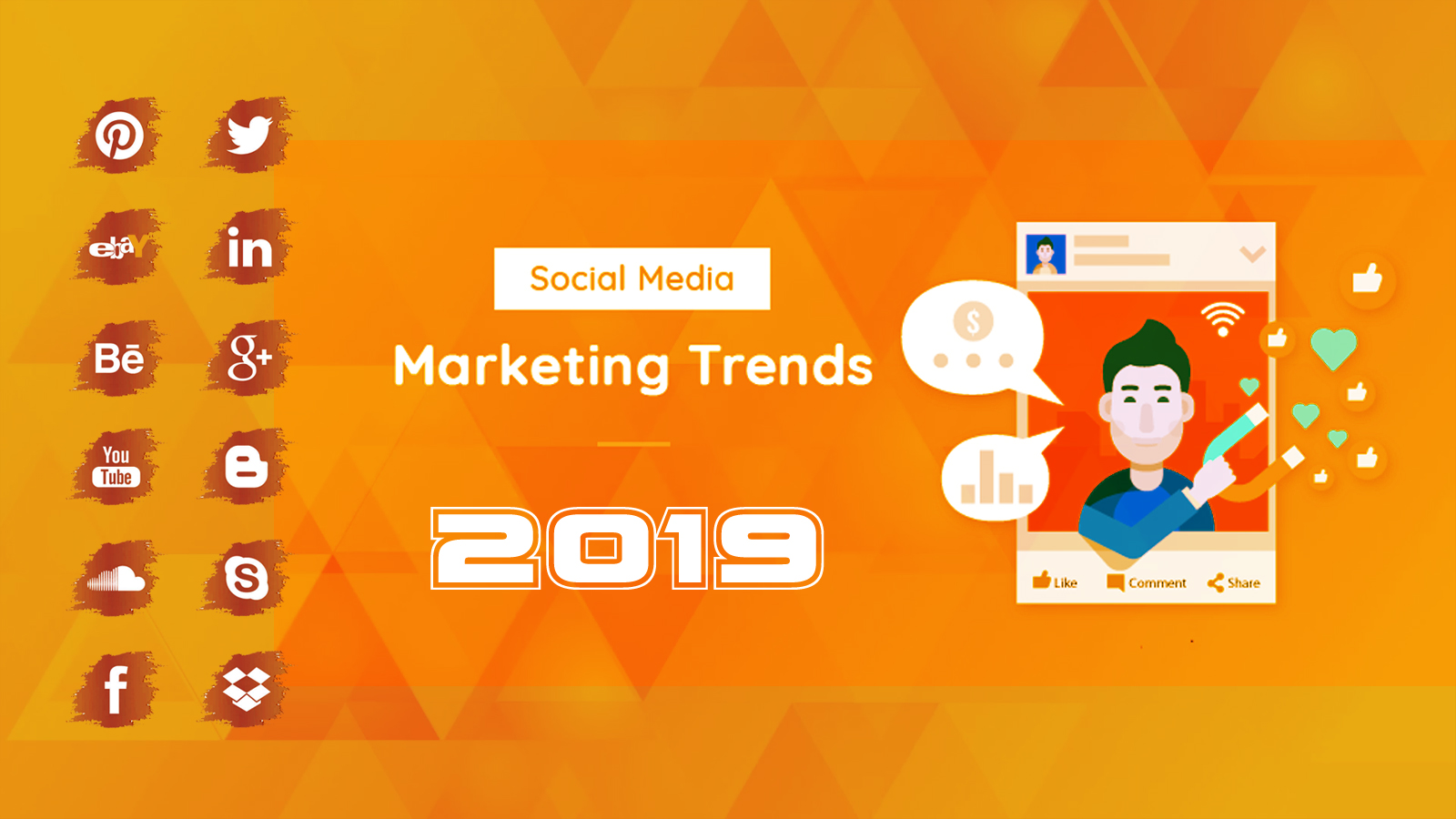 New challenges, innovative formats, and fresh ways of engaging are all set to make 2019 an exciting year for social media. The world of social media is relentlessly changing and bringing trends, ideas, and even unspoken rules every year.
In many cases, these changes are not that sudden or unexpected. Instead, they are gradual and mostly predictable. For instance, nobody was surprised when Google decided to pull the plug on Google+ a couple of months early.
The bottom line is that these trends will force digital marketers to rethink the way they use different social media platforms. Since these trends are integral, this post is carrying the ones that will be popular in the coming year. Most of these trends have already made their presence felt while others are evolving slowly.
However, just before jumping on these trends, let us do some number crunching.
Facts And Stats That Matter
The year 2018 has been packed with massive digital transformations. Right now, there are close to 4 billion internet users across the world; on average, every user spends 6 hours online daily. And that is just the beginning. The digital landscape's explosive growth is simply unstoppable.
Today, more than 5 billion people own mobile devices; over half of those devices fall under the category of smartphones. Nearly 3 billion mobile users are present on social media. A recent report, which was published by a leading Californian software firm, found that most enterprises are taking the social train. Here are some interesting figures from the same report showing the importance of social media for businesses.
Facebook is used by 96 percent of businesses.
Almost 89 percent of businesses are on Twitter.
Up to 70 percent of businesses are on LinkedIn.
Nearly 70 percent of businesses use Instagram.
The power of YouTube is explored by 57 percent of businesses.
Close to 85 percent of businesses plan to develop more video content than they generated last year.
Besides the report that we just discussed, there has been another research undertaken by a leading market research company in the UK. This research states that we spend almost 2 and 15 minutes daily on different social media channels.
As per a report published by a top American online community for marketers, customers spend from 20 to 40 percent more on the enterprises engaging with them through social media.
Another research from a market and consumer data provider gives the insights into the most popular social media channels in January 2018. According to the research, Facebook has 2.2 billion users, YouTube has 1.5 billion users, WhatsApp and Facebook have 1.3 billion users each, and WeChat has 980 million users.
It is interesting to note that among the most popular social media platforms, three are messenger applications. The number of social media users in 2021 will reach up to 3.02 billion—and the social media channels will be popular with Generation X, Generation Z, Millennials, and Baby Boomers.
All these facts and figures reveal a very clear-cut picture: Social media has to be integral to a business's marketing mix in the coming year. That being said, social media is still an evolving beast as it has a lot of new features popping up time and again.
Here is the ultimate low-down on the top trends that will take social media by storm in 2019.
When AR Will Go Social
The first trend in the list says that a great deal of social media will be transformed by two realities, augmented and virtual. Augmented reality is closely similar to the world of virtual reality. It is because these technologies enable what a consumer sees in the computer is easily augmented by a lot of other elements.
A great example of AR going social is through Snapchat's facial filters. These filters have sponsors on the screen's corner, and a few people can create their own geofilters as well.
Focusing On Generation Z Should Be A Priority
Social media technology and Generation Z are evolving together. To be precise, social media has become a daily reality in the lives of Generation Z. So, as Generation Z is growing older, social media has to focus on the people belonging to this specific generation.
The people from Generation Z are slowly getting out of college and are beginning to work. Eventually, they will have the money to spend on the marketplace. Most retail stores have embraced the facts about Generation Z and its tremendous buying power. That is how these stores are coming up with events and pop-up stores that have started receiving massive coverage on different social channels.
While it is completely true that social media marketing is more and more progressive and changes every time, it will be very important to stay in touch with the needs of Generation Z. Plus, it will be more important than ever to understand how this particular generation is using social media while it grows older.
Fresh Social Mediums That Will Rule 2019
Video Is The Best Bet
One of the most dominant mediums on social media is Instagram Stories, an idea that Instagram took from Snapchat. Around 200 Instagram users use this program once every month. YouTube and Instagram are top platforms where a business can easily build a solid presence. One other platform that Generation Z likes a lot is Houseparty that uses the power of group chats for taking socializing to a whole new level.
That is to say, video, whether live or recorded, is soon becoming a powerful social media tactic that nobody can afford to ignore. It will just get more and more apparent in the coming time. As per a leading US software development company, 43 percent of social media users will want to see more and more video content coming from marketers. What else? Businesses have started publishing 18 videos every month, on average.
Chatbots, Messengers, And Live Streams
Other key mediums are chatbots, live streams, and messenger applications. Especially, with chatbots and messenger apps, the lines of communication existing between customers and businesses have become wide open and more sophisticated.
For example, if customers happen to land on a specific business page and see anything they are interested in, then marketers can easily connect with them through chatbots. This way, the customers will be able to initiate a basic conversation that could lead to a sale.
Facebook Messenger has a massive user base. But it is not the only messenger application in town. No doubt, the popularity of different messaging platforms is already exploding. WhatsApp, for example, enjoys 1.3 billion monthly active users; likewise, WeChat has close to 963 million monthly active users.
Moreover, with the integration of chatbots and artificial intelligence, a business can seamlessly improve customer experience and engagement.
Influencer Marketing Gets Big
Influencer marketing is also one of the biggest social media trends that businesses have to watch out for. In the web, there are a lot of well-known social media stars and micro-influencers who are not that big a star but are influential on their level.
In fact, micro-influencers can be more and more helpful to an enterprise's social media marketing as they are usually regular people that the customers can relate to. That means hiring an influencer or spending on influential marketing makes complete sense, nowadays. One pro tip: YouTube is one of the most robust mediums for putting influencers to work.
User-Generated Content
This format of content generally includes videos, photos, and memes generated by users. This content adds a very personalized touch. Because, today, it is not at all enough to sell a product. Instead, today, consumers are more interested in the story that backs a product. In short, user-generated content personalizes business products or services in ways that any business cannot simply do.
A Sneak Peek At Upcoming Social Channels
Vero
One of the main competitors of Instagram, Vero is an application that enables people to share movies, TV, books, links, places, music, and whatnot. Business, through Vero, can build an awesome profile; it is a great tool for artists who just want to release their art and share it with a lot of other people.
Most importantly, Vero does not have any ads. That is, Vero is all about content and nothing else. What else? When a business shares content through this application, it will have four options: close friend, followers, and acquaintance. This way, virtual socializing begins mirroring real-life privacy. This particular development will bring to this platform a very solid customer base.
TikTok (Formerly Known As Musical.ly)
Coming from the world's Eastern Hemisphere, this app was built in China and it is structured for replacing Snapchat. TikTok is different from Snapchat because the former focuses on video content that is 15 seconds to 1 minute long.
The uniqueness of this platform is that, here, businesses can pick any soundtrack for accompanying the video. What is more? The enterprises can even use a variety of speed effects and filters, too.
With the help of TikTok, a business can easily create short-length video content, which is called live moments. (Live moments are basically nothing more than GIFs with music.) With fresh ways for editing snackable, short videos, TikTok brings to the table a host of opportunities for businesses that are interested in developing exciting, new videos. With the help of these videos, brands will engage with audiences better.
Social Listening Will Matter The Most
Social listening is basically the process of monitoring or crawling the web and social platforms. By doing so, businesses are in a better position to find all the mentions of their brands or any other important keywords in the social feeds.
This process even includes untagged brand mentions on different social channels. It includes scouring the social media turf for any mentions of industry-relevant keywords or key phrases. By analyzing these key phrases and keywords, a business will know who all are really interested in buying its products. With this process, a business will also know what customers think about its brand and its reputation.
Currently, the major goal of social listening is reputation management and customer service. So, using social listening for these two specific causes is expected to rise to even bigger heights in the future. But the real trend of 2019 will be using this specific procedure for generating leads and selling socially.
The Bottom Line
Overall, social media is all about building connections, relationships, and lasting engagement. With these trends present in a social media marketing mix, a business will optimize its strategy and will seize newer growth opportunities.
In short, these trends, if implemented by the book, will let a brand make the most of its time on social media channels. However, it is important to note that you should not jump on the bandwagon just yet. It is because some of these trends will not fit well in a specific business model. So, a business should check its business model first.
In case a brand needs assistance in decoding the deep science that drives these social media trends, get in touch with Flexsin Technologies. The company has deep expertise in making these trends the mainstay in a brand's marketing mix.