Mobile Application Development Trends That Will Dominate In 2020
Enterprise mobility is radically transforming business models from scratch. In fact, a leading consu...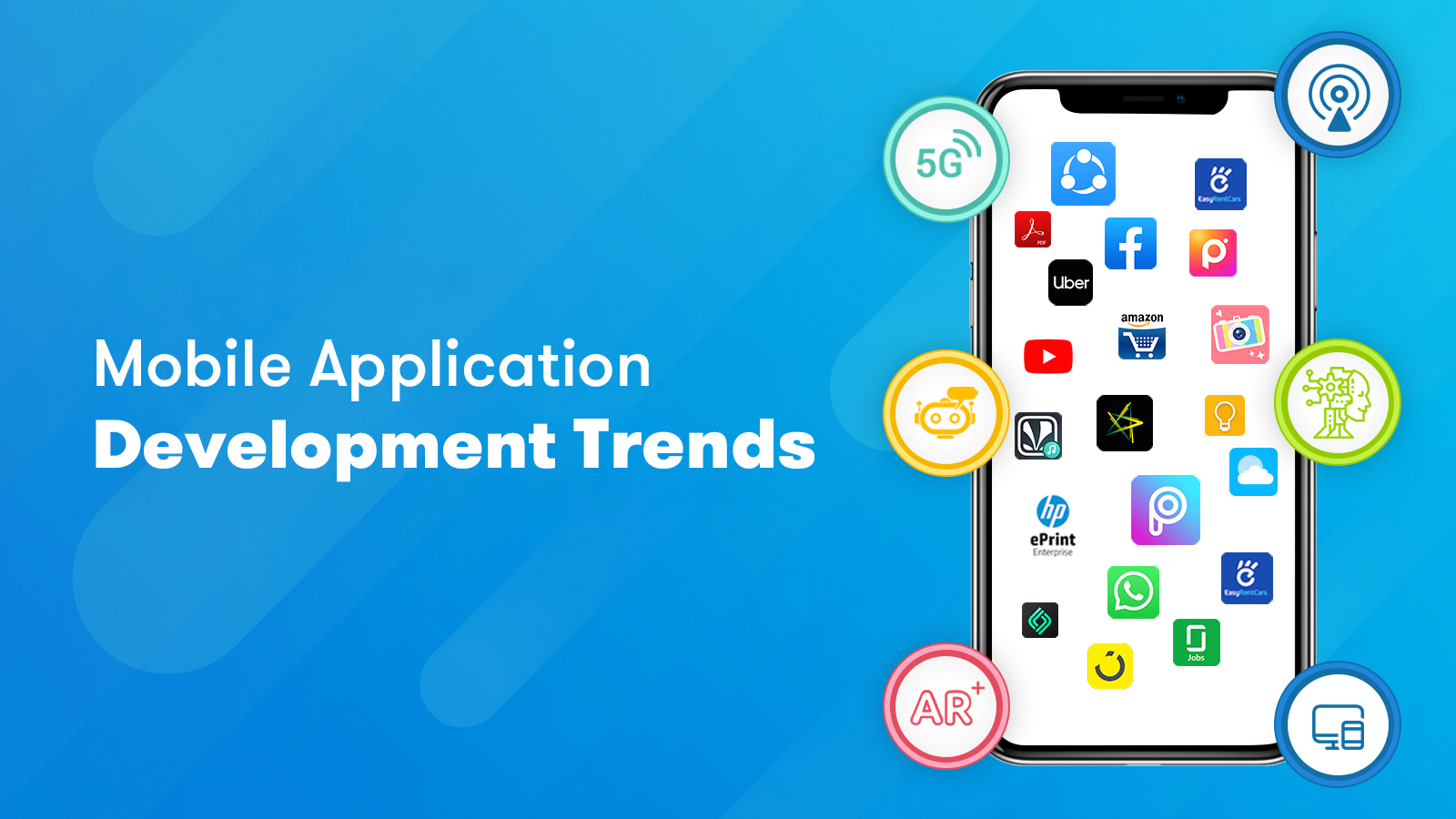 Enterprise mobility is radically transforming business models from scratch. In fact, a leading consumer data website declared that the revenue generated by the global mobile app market will touch close to $693 billion by 2021.
Nonetheless, a top research outlet, too, has predicted that almost 9,999 applications out of 10,000 fail. Because of this fact alone, enterprises feel that their big-ticket application development endeavors are jeopardized.
Which is why, it makes sense to keep tabs on the latest and greatest trends that are all set to revolutionize mobile application development culture in 2020 and beyond. At Flexsin, we have curated some of the top trends that are likely to reimagine mobile app development in the coming time.
Building The Momentum With Beacon Technology
Deployed by Apple in 2013 as iBeacon, the beacon technology has radically evolved since that time. Initially, the technology was basically leveraged for pulling off some marketing gimmicks. But, now, the focus of this technology is pushing customer engagement to a whole new level.
It took more than 6 years for this technology to refine its niche for delivering location-specific experiences. These days, beacons are heavily used in different opt-in strategies. The technology is successfully deployed in a variety of use cases that enhance the user experience by a wide margin.
Enterprises that basically focus on consumer-first technology will benefit a lot from beacon technology. According to a study, by 2020, beacon deployments will skyrocket and reach almost 400 million worldwide. As per research, more than half of the 5.1 million proximity sensors deployed around the world use beacons.
This always-evolving technology is creating an impact on not just retail but even airports, food services, sport and concert venues, travel and tourism, healthcare, cinema, banking, logistics, analytics, and the like.
Pushing AI To The Top
Commonly known as AI, artificial intelligence is getting the limelight for the last few years. The most empowering breakthrough for AI came when it got deployed in mobile application development. The integration of AI inside applications has made them extremely faster and smarter.
And when the applications get quicker and easily understand user behavior, the user experience will go to the next level for sure. Which is why, every leading mobile application development company is deploying AI at the heart of its development endeavors.
The deployment of AI-enabled applications has been accelerated by Google's launch of Duplex, which is an end-to-end AI program that can fix an appointment or make a call. Such developments show that AI has come a long way since its invention. Here is a bunch of AI mobile app development trends that are likely to catch fire in the coming time: AI-enabled chips, AIOps (when DevOps meets AI), automated ML or machine learning, cross-compatibility among neural networks, and the like.
The future of AI app development is big with the evolution of IoT, Virtual Personal Assistants, Cyber Security, Intelligent Apps, and much more.
Empowering Engagement With Chatbots
Over 50 percent of buyers are in search of DIY customer service models. That way, customers want to accelerate the process of making the purchase. The best way of putting this customer-centric vision from imagination to the real world is none other than chatbots.
An enterprise can truly drive its customer engagement and management initiatives with chatbots and similar tools. As per a study, in 2020, the integration of mobile applications with chatbots will transition from being rudimentary to extremely sophisticated.
At the time of writing this, there are over 2.8 million apps in Google Play; in Apple's App Store, the app count touches 1.8 million. Some of these applications come with chatbots for enhancing the UI/UX experiences.
A case in point: Starbucks. The leading coffee shop recently rolled out its application that can place the order on behalf of its customer. A study says that by 2020, almost 80 percent of businesses plan to implement chatbots for users who appreciate quick responses and precise answers.
That means the future of customer engagement looks bright for an enterprise that deploys chatbots in its apps.
Augmenting The Digital Reality With AR
When someone winds the clock a few years ago, they would notice that only films could unlock sheer value from AR or augmented reality. However, today, augmented reality or AR is getting embraced by different business verticals.
For example, there are fully-fledged applications that have been engineered using AR to help someone repair their car if the garage is not nearby. With these AR-enabled applications, the users do not need a computer to perform an end-to-end diagnostics. Instead, it is easy to sync all the data of the vehicle on the smartphone through such applications.
These apps work whenever someone points the in-app camera of the smartphone at the engine. That is when the screen of the smartphone will display different data points related to fluid residue, engine temperature, the condition of vehicle components, and the like.
Because of this, an AR-enabled application will help streamline different workflows while making them interactive.
Accelerating Wearable App Integration
Wearable technology is swiftly advancing the world over. As per a leading customer data aggregator, the number of active connected wearable devices will touch close to 929 million by 2021. And as this technology is advancing at a great speed, the number of wearable applications can rise making them part of our daily lives.
In the second quarter of 2019, Apple in one its keynotes said that it will soon roll out a WatchOS update. Which means one thing: The applications on Apple Watch will no longer need an iOS companion to work. That even means that Apple Watch may soon have its dedicated app store. This development clearly states that the advent of wearable technology deployments has begun.
When the applications specific to an Apple Watch will work independently, the rise of wearable app development is evident. Because of this, leading app development companies across the world are getting ready to integrate their existing applications with wearable technology. That way, an enterprise along with its application developers is providing immersive digital experiences to its users.
Embracing The 5G Wireless World
The rise of 5G technology is becoming one of the most talked-about trends of recent times. Designing applications that are ready to embrace the fast-growing 5G world will be of high importance in the coming years and beyond.
First things first, the most powerful thing that 5G brings to the table is sheer speed. To be precise, the speed delivered by a 5G network will be 100 times faster than the conventional 4G network.
In 2020, 5G will gather steam at a really fast pace. But by the end of 2020, the world of communication will see a dramatic shift from 4G services to a robust 5G wireless network. Even before the 5G network's official rollout, most industry pundits will be positive about the future prospects of 5G technology.
The use cases of 5G services will not be limited to speed either. Rather, the world of 5G functionalities will even include data security, 3D gaming, speed, AR, and much more.
For capitalizing on cutting-edge mobile app development advancements, most wireless network companies like Verizon and leading smartphone manufacturers such as Samsung are working toward launching 5G-capable chips.
With 5G bringing a wide array of applications, most mobile app developers are designing applications that can use faster network speeds.
Deploy App Development Trends With A Leading Technology Partner
Knowing these trends is one thing, but implementing them on a live mobile application development project is a different thing altogether. At Flexsin, we believe that the latest trends have to be shifted from paper to the real world in record time.
For doing so, we have a team of expertise-backed mobile app developers. Our development team has competence in designing innovative mobility strategies and deploying them. As part of our expertise, we work with leading technology frameworks such as iOS, Android, Ionic, React, Unity, Xamarin, PhoneGap, Flutter, and the like.
Whether it is wearable technology, beacon, AR/VR, mCommerce, NFC, or IoT, we have several man-hours worth of experience to develop interactive mobile applications on these technologies. If an enterprise really wants to unleash the real power of the latest mobile application development trends, Flexsin will be its growth partner.