How Is Power BI Changing The Way Businesses Make Critical Decisions
The analytics landscape is evolving at an unprecedented speed. Apart from mobility and predictive an...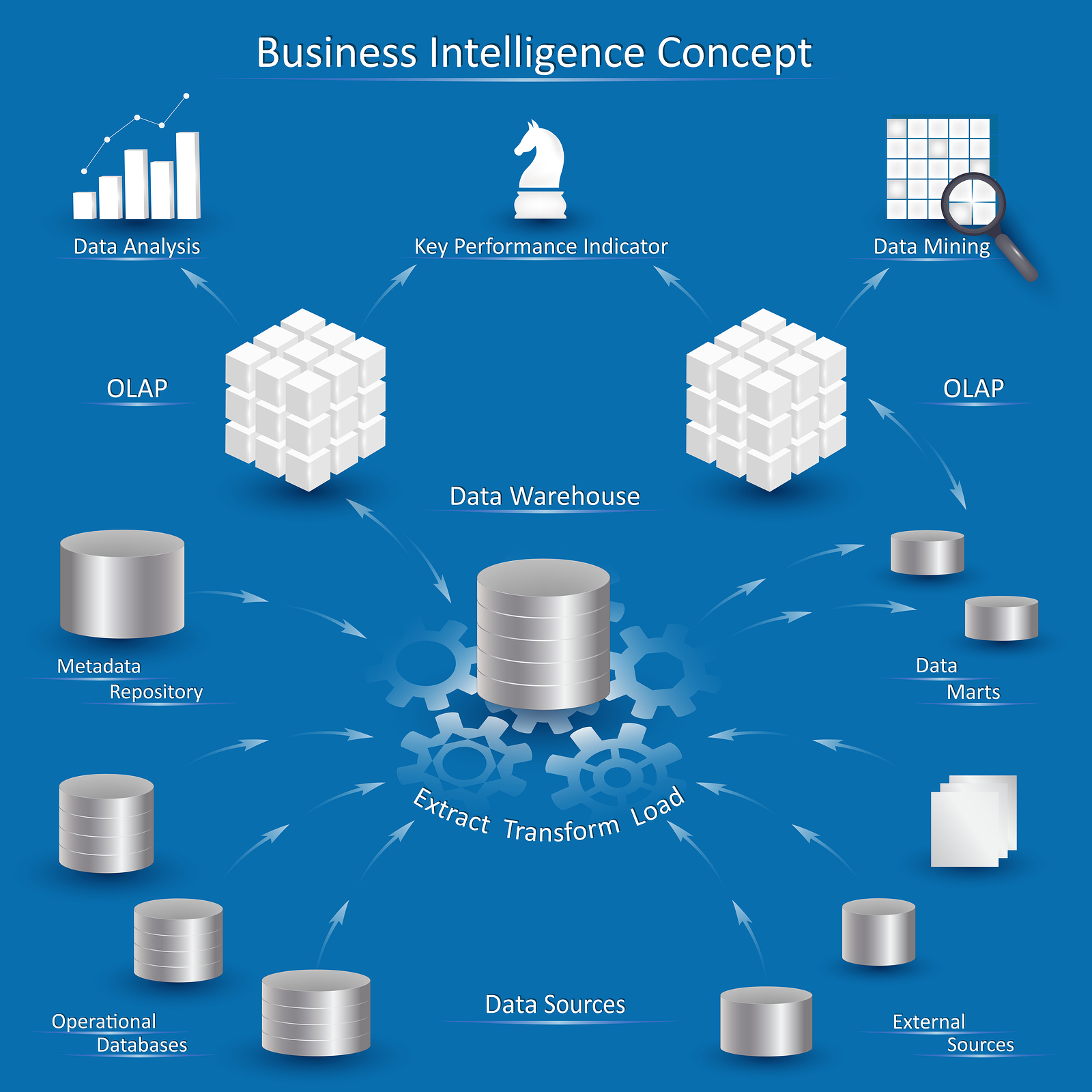 The analytics landscape is evolving at an unprecedented speed. Apart from mobility and predictive analytics, one big innovation that has revolutionized analytics and opened a fresh world of data-driven possibilities is business intelligence (BI). This revolution in analytics has enabled enterprises to take an immersive approach to data. Here is how BI is making it possible for businesses to harness huge quantities of data intuitively.
Intelligence That Gives Data The Business Edge Of Tomorrow
Driven by the raw power of technology, BI gives the most actionable information and insights that let next-gen corporate end-users, managers, and executives make informed business decisions. BI uses the right set of tools, technologies, and methodologies for creating fresh intelligence and for unlocking the hidden or trapped data value available at the core of enterprises.
A powerful BI solution is the one empowering businesses to collect data from a variety of external and internal sources. Once the data is accumulated, a BI solution will prepare the analysis; develop queries and run them on the data; and finally create easy-to-use reports, infographics, and dashboards for making the right analytical results available.
Businesses, today, are investing in prebuilt BI solutions that are engineered to deliver role-based, intuitive intelligence for senior management and front-line employees. One such powerful tool that has made changed the way BI works is Power BI. True to its name, Power BI empowers business intelligence so that the distance between data and insights is reduced.
Power BI Enables Data To Drive Critical Decisions
Microsoft's Power BI has a range of business analytics tools for delivering the best insights across an enterprise. This solution makes it possible for businesses to travel from raw data to actionable insights in just minutes. The suite of business analytics tools is able to connect nearly hundreds of disparate data sources that not only simplify data prep but also drive ad hoc analyses to the next level.
More forward-thinking companies are embracing Power BI for a number of factors. Some of them include accelerating decision-making, improving the quality of the decisions, increasing operational efficiency, optimizing internal business processes, and generating fresh revenue streams.
This sophistication of Power BI solutions even enables companies to identify the growing market trends and pick fresh business opportunities waiting to be explored. So with highly evolved Power BI, a business can expect to transform data into live reports and dashboards that answer an enterprise's mission-critical questions.
Before Power BI Was Mainstreamed Into The Business World
Before Power BI existed, businesses that were on the fast track to evolution and growth faced challenges while working with huge chunks of valuable enterprise data. Because they mismanaged their respective datasets, businesses created road blocks in their transformational journey.
Also, the enterprises that did not harness the power of data for driving business decision-making relied on siloed data alone. Such data would have been impartial because it remained in isolation, and any impartial dataset lacks the capability to empower decision-makers. That is when the need for an intelligent solution was felt; that is when the need for Power BI manifested itself in full form.
The raw power of this BI solution to deliver the most relevant insights and analyses with low cost of ownership is noted by Gartner. For the tenth year in a row, Microsoft is positioned in the Leader section in Gartner Magic Quadrant for Business Intelligence and Analytics Platforms.
What Empowers The Power BI To Deliver Actionable Insights?
Power BI enables data analysis to be agile, quick, and user generated. This is one tool that not only simplifies but also takes data collaboration, analysis, and sharing to the next level. Here are the top three components that empower the performance of this BI solution at every step of analysis.
Power Pivot
This component imports and even integrates the datasets from a variety of sources for developing in-memory data models. Such integration enables any functional user to combine different data sources for improving its overall value. Classic examples of such integration can be found when demographics data or weather data or corporate sales data is analyzed using Power BI. This component, further, supports complex calculations and aggregates hierarchies, key performance, and indicators. And it can even be used by analysts for data prototyping and for doing a one-time analysis of different business situations.
Power Query
Also known as Data Explorer, this component searches for data within different corporate data sources or online. The dataset picked by Power Query is seamlessly imported on an Excel table, and this is doubtlessly a game-changing feature for many analysts. This component offers native data connectivity that is distinctive and that makes data access simpler and quicker than ever. Tasks such as renaming columns, merging data, replacing values, and doing other critical data modifications are done by this component. This component becomes a big deal because it lets data shaping and cleansing without any hassles.
Power View
This is the go-to component when it comes to visualizing the data and making it more interactive than before. This tool is supposed to do things such as cross-filtering and highlighting the data. Working with the data in Power View bears a striking resemblance with working with PowerPoint and Excel Pivot Tables. Apart from the graphs, tabular data, and charts, Power View supports different maps having the zoom and pan capabilities as they are integrated with Bing Maps.
Power BI Is Revolutionizing The Business Intelligence Landscape
If a business lacks the capabilities of delivering key insights, it will lack a proven competitive edge and will experience sluggish sales. And when it is about laying the hands on the most actionable business insights, it is certainly about Power BI. This business insights tool from Microsoft changes big data into immersive visualizations and interactive reports that can be consumed at a glance. Now, here are the top ways through which Power BI has rightfully revolutionized the world of analytics and business intelligence.
Data Becomes Accessible And Organized
Previously, Power BI is engineered to integrate a variety of Microsoft Tech such as SQL databases and SharePoint. Now, the solution is even taking data from non-Microsoft resources. Right now, Power BI has the ability to connect and integrate big data, streaming data, on-premise data sources, Excel spreadsheets, and cloud data. So no matter where the enterprise data lives, Power BI has the ability to merge and analyze it. To date, the BI solution is known for connecting hundreds of data sources seamlessly. This BI solution can easily extract, connect, and analyze data from the following sources.
MySQL
Excel
Google Analytics
Azure Analysis Services
CSV
Oracle
Salesforce
MailChimp
Web Pages
Microsoft Dynamics CRM
Azure SQL Database
Taking The Stress Out Of Implementation
Very few IT resources and little engineering abilities are required for completely implementing Power BI across an organization. In fact, there are a few instances that will not require any engineering ability for the end-users. Managers simply need to develop an API key and plug that inside the software. If the enterprise is using Microsoft systems such as Office 365, then using Power BI will be natural and simple. That is because this BI solution easily integrates with Microsoft Teams and Office 365 groups.
Experience Robust Security Every Time
Power BI uses Active Directory for setting up the access to the control panel; only through this panel, the organization will use different Microsoft solutions. Apart from creating a traditional security layer, Power BI is designed for developing row-level security that enables the team to rescind and grant access in a typically controlled environment. This will not only make the data more secure but also improve a report's usefulness.
Simplifying The Learning Experience
The biggest advantage of Power BI is that its learning curve is not at all steep. Nearly everyone leverages Microsoft products, so the user interface along with the ribbons will be easy to use for a number of users. Because of this, users can easily unleash the capabilities of Power BI; and expect power users to jump straight into discovering advanced data modeling techniques that are made possible by this solution.
Applying The Insights Of Power BI To Create Digital Capabilities
Management
Power BI has a stream of cloud-based and desktop tools that bring corporate data to life. These tools let an enterprise's management to analyze and visualize data with improved understanding, efficiency, and speed. This suite of applications easily connects the top brass with a wide range of data through interactive reports, compelling visualizations, and simple-to-use dashboards.
Analysts
With this solution, the analysts can move from data to insights to actions in no time. The analysts use Power BI to connect and integrate information from a variety of data sources. All of this ultimately helps the analysts analyze complex data streams and create insights and reports in minutes.
Business Users
Power BI allows sales workforce to know where the next big opportunity is hiding in the ever-evolving business landscape. The business users will have the access to powerful dashboards not only on the web but also through the app. So with this tool, the staff will have the right data and insights at their fingertips always.
IT Personnel
The raw power of this revolutionary solution may even be used by a business's IT personnel. With Power BI, IT team will be able to simplify data management, get the required compliance, and make data absolutely secure by giving the employees only the right insights at the right moment.
Development Teams
Power BI is engineered to support the data-driven culture that is becoming more common with apps these days. This BI solution can be easily embedded on Azure for letting APIs develop and deliver the right analytics for making the best possible decision. This is a one-of-its-kind BI solution that energizes any enterprise-grade application by letting it include immersive visuals and fully interactive reports. So if developers need any data to make a powerful app, they actually need Power BI by their side.
So for building a data-intensive enterprise, managers and decision-makers need to manage complex information flows. And the best way to make data the biggest corporate asset is Power BI. This is the only advanced solution that can build the analytics workforce of tomorrow.
NEED MORE INFORMATION?
Let us connect to create win-win opportunities that unleash exponential business growth.