How Can Hospitality Sector Leverage The IoT Advantage
Imagine our everyday objects interacting with each other via the internet. That's the internet of ...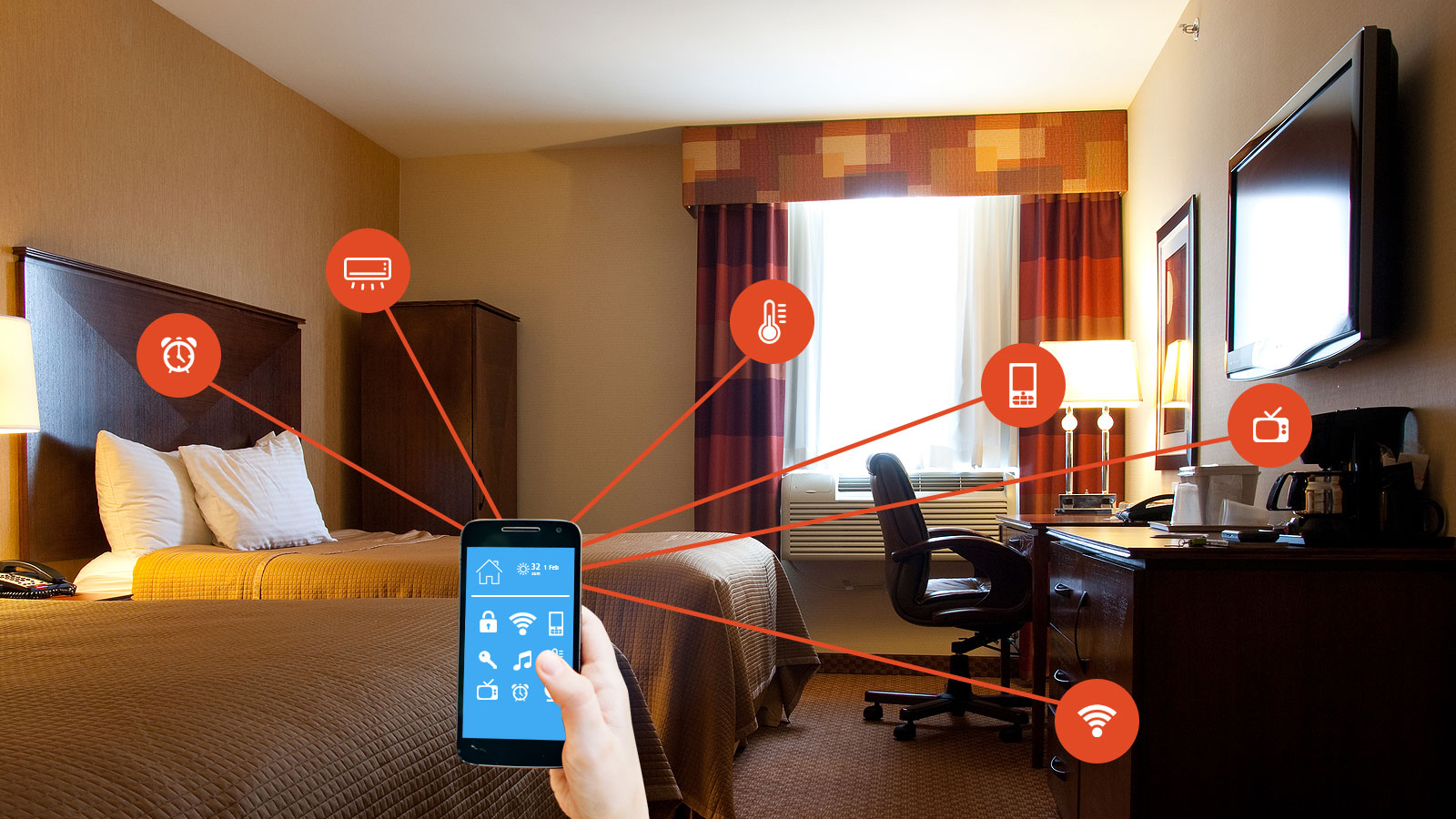 Imagine our everyday objects interacting with each other via the internet. That's the internet of things (IoT) in simple terms. The hospitality industry is not immune to IoT evolution, and in fact, is well-poised to benefit from it.
IoT in hospitality has many exciting applications. Artificial intelligence, data, and internet of things are all set to change the way hotels function. Those who are used to voice-based systems, have Alexa in their homes, now expect the same voice interactivity from the hotel room. They don't want to pick up the phone to ask someone, they'll rather just ask their hotel room.
Customize room as per preferences 
Guests stay in automated rooms where they can adjust the room temperature and lights, or call the front desk from their beds via their mobile or TV. Imagine, if you could change the temperature of the ballroom during a keynote based on how many guests are in the room?  IoT in hospitality offers increased integration with our personal gadgets. With permission, hotels can remember the guest's preferences and customize their reservation based on previous stays.
Many hotels are already using the technology to control room temperatures. By switching to a connected thermostat, hotels can adjust room temperature, like switching off the AC unit when the guests leave the room and starting it before their check-in, all with their mobile sitting at the front desk and without opening the door at all. The device reduces the likelihood of marring the first impression of a room with uninviting temperature and eliminates the cost of cooling or heating a vacant room.
Effective temperature control
When hotels combine thermostat with other sensors, the air conditioning can turn off automatically when a guest opens the door of balcony or window. Sensors could be used to make environmental changes with automated window coverings to mitigate temperature swings due to afternoon sunshine.
IBM Watson, which has already made headlines with predictive intelligence in other domains, is all set to foray into the hospitality industry with connected devices such as JBL intelligent speakers and Panasonic digital mirror. Some possible experiences include setting the required temperature for room or shower through mobile or a voice-based app and taking yoga classes on a full-length mirror.
Here are some of the popular use cases of IoT: 
HVAC and light regulation
Surveillance and access control
Real-time control and automation
Remote management system
Smart refrigeration
Food preparation monitoring
Instant notification of failures
Improved operational efficiency and lower costs 
When something starts to go wrong, there will be some indications of a failure coming.  By reading these indicators, IoT can alert the hotel staff to do the needful in good time. If the hotel fixes air conditioning before the guest's check-in or if they could replace the television while the guest is out, they are only improving service and delivering a seamless guest experience.
Enriched experience  
When a company ships an appliance, the relationship with the unit often ends as soon as the appliance is delivered. However, with IoT, the company has a relationship with the unit for the life of the appliance. This connectivity allows the company to know a lot more about the appliance and how the customer uses it. In-house, voice-activated personal assistants can provide hotels insights about the preferences of the guests, as such they can serve the guests in better ways.
Personalized services 
Personal data can be used to provide a personal touch to the hotel guests. An IoT platform could over time memorize a guest's specific preference and automatically set up the room for their next stays, such as temperature, shades, TV channels, and lights.
Earning customer loyalty 
The employees will be able to provide better housekeeping services, facilities maintenance and carry out energy conservation.IoT applications enable hotel staff to optimize the front desk, room service, concierge and address the guest concerns through data-driven triggers and alerts. Automated door locks, electric blinds, and light switches will help hoteliers to enhance their in-room experience and provide soothing ambience to the guests. By automating guest data and staff information, hotel owners can offer better guest experience and earn more customer loyalty.
Guests aren't the only ones experiencing the benefits of an internet of things. Automation and increased data sharing improve efficiency throughout a hotel facility, that directly translates into cost savings. Hotels can cut back on energy costs by automatically adjusting to a room's occupancy, without compromising on the comfort of guests.
Predictive maintenance for a seamless experience 
Likewise, IoT in hospitality lends itself to predictive maintenance. Hotels can avoid the last minute reshuffle to accommodate a guest with broken AC.  If you have the intelligence on the issues before they become a problem, you can deliver a seamless experience to the guests. Your level of service will be perceived much higher by the guests.
While hotels embrace IoT, guests' comfort and personalization will always be at the heart of hospitality. Big data and automation can be combined with IoT to improve guests' experience and operational efficiency.
If you are in need of implementing IoT in your business operations, contact Flexsin. With our proven IoT capabilities, we can help you gain most out of your IoT development.