Empower employees for faster decision making with shared business processes and team collaboration
Microsoft SharePoint framework creates an environment for the intranet, extranet, and internet, faci...
Microsoft SharePoint framework creates an environment for the intranet, extranet, and internet, facilitating networking and teamwork, including workflows, data server, document management, business analytics tools, Microsoft Office and Exchange Server, and more. The Microsoft web-based collaboration software is designed to make team collaboration and document management easier. The platform provides a secure place for users to access, exchange and collaborate. With a variety of usage in enterprises and web-based app developments, Microsoft Points is the most widely adopted solution by companies.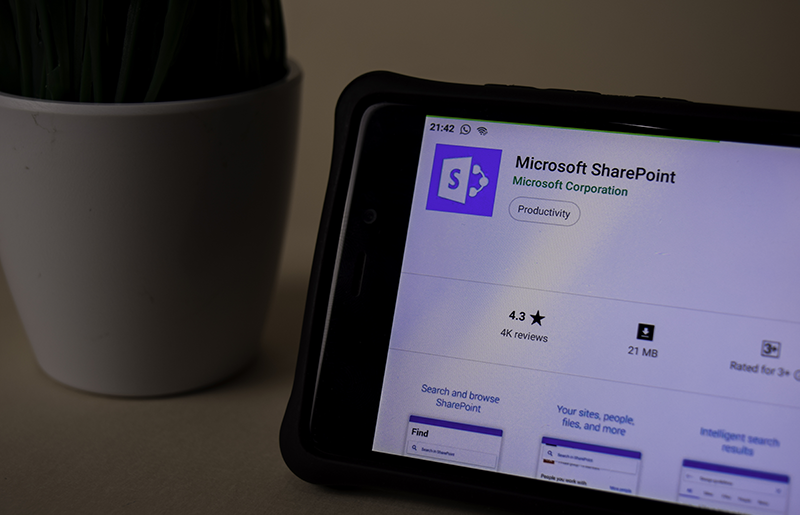 SharePoint is used to perform a variety of tasks including custom workflows to boost productivity, information searching, knowledge management, development of public-facing websites, and business process optimization. Your office staff and remote teams can enjoy the same convenience. For the uninitiated, SharePoint operates like Google Drive, but supports many advanced and multi-faceted solutions.
The greatest of all SharePoint benefits is its flexibility. As the collaborative platform serves as an intranet, an organization can seamlessly share, schedule tasks and contracts. Admins can assign different permission levels as per the requirements and user status. The permission dictates control over:
Sites
Folders
Documents
Web applications
Lists
Various versions of SharePoint
In addition, you can also set other security settings to view all revisions to a document, and even return it to its original state with just one click. The platform also allows for document sharing, file management, social networking, and virtually anything involved in the everyday operations of a company. SharePoint is available in multiple versions, including SharePoint Server, and SharePoint Online, which is part of Office 365. Windows SharePoint Services or WSS has all the basic functionalities of a content management system (CMS) that are highly useful for file and folder storage, and their management. Microsoft Office SharePoint Server (MOSS) integrates the functionalities of SharePoint into the Microsoft Office application. This version of SharePoint allows for the saving of documents as part of a web app.
Out-of-the-box workflows and functionalities
SharePoint has many out-of-the-box workflows designed to automate these processes and more. Your employees can even integrate them with familiar client applications and web browsers for a consistent user experience. It includes a variety of sophisticated and unique tools for customization, and easily integrates various functions into an application. You can tweak the components and integrate them as per the suitability of the project. SharePoint comes with robust security and integrity features for protecting the integrity of the app data from unauthorized access. The platform allows the users to create a simplified view of complex data without including unnecessary information. It connects employees with information and expertise with its 'enterprise search' function.
Key features of SharePoint platform:
Access services
Customized web parts
Durable links
Side folders view
Encrypted connections
SMTP encryptions
Add-in development
Timer jobs and event receivers
Compliance
WOPI
Intranet portal
Business intelligence
SharePoint integrates seamlessly with the rest of your corporate apps including Microsoft Office Suite, back-office systems, and prior versions. SharePoint Online works with all modern web browsers, not just Chrome, Mozilla and Microsoft Edge. SharePoint's form-driven applications collect information from suppliers, communicate with customers, and also interact with vendors and partners.
Be it developing a SharePoint portal, or you need an upgrade, support and maintenance for your existing applications, Flexsin SharePoint development company can provide you with all these services under one umbrella. Being a Microsoft Gold Partner, the developers, architects and consultants of Flexsin SharePoint development company are highly experienced in implementing SharePoint services including the below ones:
Consulting & Development
Workflow Development and Business Process Automation
Integration and Managed Services
Power Automate Services
SharePoint Healthcheck
SharePoint branding and design services
SharePoint managed services
Admins can use the console function to access basic operation features, restore information, and change settings in one convenient piece. SharePoint is one of the most popular CMSs (content management systems) that reduces costs, mitigates risks, and improves collaboration. Your teams can rely on SharePoint to work seamlessly with any application that they are already using, like MS Exchange Server, and MS Unified Communications. You can also create custom apps that are consistent with your branding, resulting in higher ROI for your organization.
Our developers use an array of SharePoint libraries, PowerApps, Power Automate, and lists to deliver truly immersive digital experiences to our diversified, global clientele. Flexsin can also offer you smart add-ins to extend its capabilities, enhance user experience, and increase its business value.