Digital marketing success strategies to overcome the toughest challenges
Whether you are a social-driven startup or an enterprise-grade business, you need to be digitally co...
Whether you are a social-driven startup or an enterprise-grade business, you need to be digitally connected to succeed. One of the most widely used tools by digital marketers is Google Analytics which provides the marketers with insights on the website's performance. They can also link their advertising data to Google Analytics to review campaign performance and site data. The marketers can also create dashboards to highlight the data that matters the most to them. Analytics allows the marketers to analyze user behavior at a highly detailed level, such as the time spent by them on a page, how it was navigated, and for how many times the link was clicked. Google Analytics can be customized in nearly endless ways to measure the performance of the website.
On the other hand, with Google Search Console, you will be able to access valuable data about your website and SEO (Search Engine Optimization) efforts. You can spot link-building opportunities, traffic data, and generate performance reports. Ahrefs is another useful digital marketing tool that you can use to track the keywords on which your website ranks, discover content gaps, and streamline your content strategy. It provides you with up-to-minute information not only on your site's performance but also of the competitor's.
Digital marketing trends are constantly evolving as marketers are finding better ways to reach out to the audience, while the audience is interacting with businesses through different channels including social media, emails, and videos. There has been a massive shift to mobile-first usage, so make sure that you use accelerated mobile pages (AMPs) to provide the users with a seamless experience when they access your website on mobile devices.
Building an effective sales funnel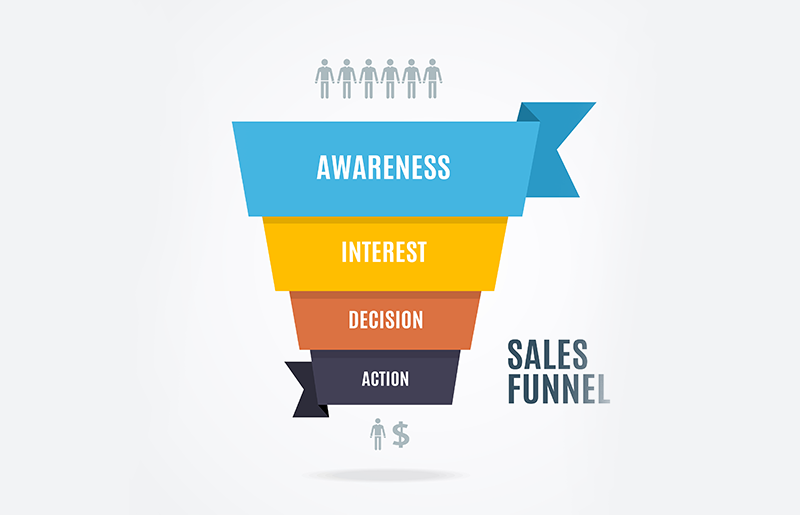 A content strategist knows what it takes to build an effective sales funnel. Building an effective sales funnel would go a long way in converting the leads into customers. For this, one should focus on outreach programs through explainer videos, Facebook ads, infographics, and content marketing. Outreach is the widest part of the sales funnel where customer engagement and brand awareness happen. Case studies and informational blog posts help in conversion. Email series and reviews are important for closing the leads while whitepapers, surveys, and offers are critical for retention.
Addressing the needs of B2B and B2C markets
B2B (Business to Business) clients have a longer decision-making process and thus have longer sales funnels. Relationship-building strategies work better for B2B clients. B2B transactions are usually based on logic and evidence, and need input from more than one person to make a decision. On the other hand, B2C (Business to Customers) customers respond better to short-term offers, they are more likely to be emotionally based, and favor one-on-one connections with the brand.
As a trusted digital marketing company, Flexsin Technologies utilizes a mix of tools and strategies to provide you with the best outcomes that include:
Search engine optimization (SEO)
Social media marketing (SMM)
Programmatic display
Organic social
Co-marketing
Native advertising
Earned mentions
Mobile marketing
Marketing automation
Digital messaging
Backlinks
Influencer outreach
Developing evergreen content for multi-purpose uses
Whether it is landing pages or your social media profile, your content needs to be informative and engaging. Also, make sure that your content is share-worthy, no matter whether it is created or curated, so that it spreads organically and is remembered. Focus on creating a library of evergreen content that can be used for multiple purposes and even across channels. Evergreen content is not time- or event-relevant but it is a key part of your brand's storyline and core messaging. Also, it is important to have an understanding of the SEO best practices. SEO can support and reinforce your campaign by delivering high-quality content to the customers.
Create nimble and fluid structures
Take care to break siloes in the marketing teams to create nimble and fluid structures. Remember that your customers aren't sequestered to one channel, so your marketing efforts need to deploy cross-channel functionality to engage with the customers wherever they are. The marketing team needs to include different tones, offers, imageries, and even the time of the posting, to meet the expectations of different audience on different channels.
Targeting SMART goals and working on the right metrics
As a trusted digital marketing company, Flexsin will create S.M.A.R.T. (specific, measurable, achievable, realistic and timely) goals to guide your digital marketing strategy. Our digital marketing experts will custom design your marketing strategy and target the right metrics to help you achieve your marketing goals. These important metrics include
Click Through Rate (CTR)
Cost Per Lead (CPL)
Return on Ad Spend (ROAS)
Effective Cost Per Thousand (eCPM) and
Return on Investment (ROI)
Flexsin digital marketing company would help you have global reach with a low cost of entry. Our dynamic adaptability to your digital marketing strategy will help our teams to realize commercial opportunities for you as and when they arrive.