Big Data For Small Companies: Five Benefits That Cannot Be Ignored
Do you think big data is too big for your small business? If so, you have to think again. Big data u...
Do you think big data is too big for your small business? If so, you have to think again. Big data uncover market trends, hidden patterns, customer preferences, and other game-changing insights. In fact, big data for small businesses can help your company make smart decisions required to stay ahead of the competition and maximize profitability. In short, data offers businesses with key insights required to become more profitable and efficient. The bottom line is that your business should prioritize data science to succeed, just like big businesses do. Today, your small business will find big data science solutions and many tools to unlock the power of big data. By using these solutions and tools, your small business will leverage the power of big data despite its smaller workforce and tighter budgets. This explainer will tell you about:
The benefits of using big data for small businesses
How your business can embark on its big data journey
Let us get started.
The Big Data Edge For Small Companies
Benefit #1: Minimizes Costs
An efficient business process will help minimize costs. With big data, your small business may receive the information required to reveal operational inefficiencies. That way, your business can resolve issues causing these inefficiencies. For example, your small gift shop may use data to discover that a large portion of your customers are not interested in buying gift wraps whenever they make a purchase. That means your store should stop inventorying gift-wrapping supplies at the checkout. This decision will eventually result in cost reduction at an operational level.
Benefit #2: Maximizes Sales
Small businesses with access to big data can gain massive insights into the buying preferences and shopping beliefs of their customers. Armed with this data, small companies like yours can easily understand how to customize their offerings to give customers what they want. Nothing more, nothing less. A small business that modifies its offerings this way will definitely increase its sales.
Benefit #3: Brings An Advantage
Your investments in big data will help you unlock a world of growth opportunities for your small business. That way, you will easily focus on the preferences of your local customers. The fact is, data tools eliminate the guesswork when it comes to strategizing for your local market. Moreover, customer data will also help small businesses gain actionable insights into the buying behaviors of their customers. And when your small business has a clear idea of how your customers think and what offerings they dislike or like, you will be able to personalize your offerings just for them. And this capability to personalize your offerings will be your business's biggest competitive edge.
Benefit #4: Improves Decision-Making
Like every other small business, your business must be on social channels – LinkedIn, Facebook, Twitter, Instagram, and the like. And if that is the case, you should think of social media mining – it is performing data mining of your social profiles. When you do this, your business will gather actionable insights into the buying interests, purchase patterns, etc., of your social media users. With these insights, you will be able to create well-targeted marketing campaigns for different segments. Moreover, you have a range of data processing tools that can help your business mine its different social media platforms.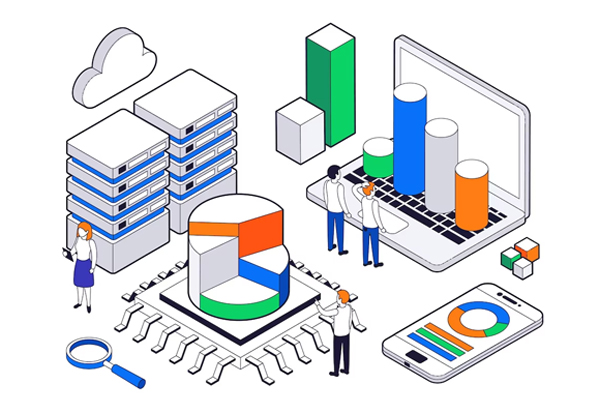 Benefit #5: Enhances Pricing Decisions
A small business that prices its services and products properly can succeed. But nailing your offering's pricing is easier said than done. Here is where powerful data tools come into play. If your small business invests in data tools, you will easily assess your competitors' finances and organizational structures. This comprehensive data-backed competitor analysis can help you compare your pricing strategy with your competitors'. With the help of data, a small business can easily determine if it should lower or raise its pricing and even confirm that its prices are aligned with that of its competitors.
Get Started With Data Analytics For Your Small Business
At Flexsin, we can help your business leverage big data effectively. We have deep capabilities in data science to help you make the most of available data assets. From carrying out data analyses to performing data visualization and data interpretation, our team has vast experience in helping businesses make sense of their unexplored data assets. Our data science services include data acquisition, data analyses, and data cleansing. Moreover, we have in-depth capabilities in working with different technologies – AI, data analytics, ML, and the like. Using these technologies, we help businesses gain mission-critical insights into their data lakes. We can help your business gain key insights from vast datasets stored in different databases: Hadoop, MongoDB, CouchDB, MySQL, NoSQL, etc. Connect with our big data specialists today and discover how we can help your business get insights from the available data assets.