Analytical PHP web apps recuperate user engagement with incredible competence
A website is like an automobile that is made of an engine, chassis, and has a body showing its exter...
A website is like an automobile that is made of an engine, chassis, and has a body showing its exteriors. In the same manner, a website is an outcome of internet, server, web designing and web development processes. Both web designing and web development are two different aspects, but both are complement to each other. Interestingly, the former belongs to the layout of the website and the latter is related to the functionality of the website. If you can compare www with an automobile, you will this structure.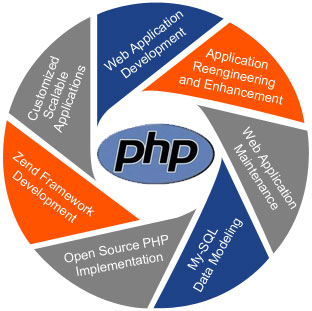 Road = Internet
Chasis= Computer or server
Engine= CMS
Mechanic= Web developer
Car body work= Web designer
When it comes to adding more functionality to the website and control its mechanism, you need to hire web developers that ensure you move ahead with greater returns and benefits. Hiring of dedicated and qualified web developers is the first step to make a highly functional website and enhance the internet experience of users. Indeed, a web developer knows the art of making websites that do things.
Every website requires a login, delivers useful tools for the users, offers multiple e-commerce features and capabilities and more virtually. Plainly speaking, everything that you imagine on the web is made possible by a true professional web developer. With this specialist, you will definitely get a nice looking site that not only provides a truly unique experience to end users but also make the website first choice of all. A good web developer:
- Helps you build your website.
- Controls your website from the back end.
- Takes responsibility for developing and coding server side applications.
- Makes your website function properly, quickly, efficiently, and with the greatest stability.
- Directs the construction of a website thoroughly.
Web developers, sometimes called programmers, take the design created and build a fully functioning website. They take the web design, break it into components and use dynamic approaches incorporating programming languages to make the website perform according to end users' needs.
It is quite clear that the development of a website is related to several activities such as e-commerce business development, client-side/server-side scripting, web design, web content development and web server configuration. That is why you should look at special things when it comes to hiring a web programmer or web developer in India. These include
- More technical in nature.
- Dedication and qualification.
- Excellent problem solving skills.
- Writing codes in different languages.
- Ability to convert a static layout into a dynamic website.
Apart from being technically sound and expert in his field, a web developer should have some essential qualities such as creativity, aptitude for technical tasks, good communication skills, ability to work as a part of the team and committed to understand new technology and upgrading skills.