Online Freelancer Service Marketplace For Professionals in Nigeria
Experties:
Custom Web Development
Web & Enterprise Portals
Application Development
Marketplace & Collaboration
Verticals:
Technology
Consulting
Technologies:
Yii
Core PHP
Mysql
Payoneer escrow
Client wanted to create an open system to resolve the demand and supply gap that exist between professionals and their prospects for Nigeria. So there lies a Toke who needs a professional (web developer, accountant, lawyer or writer) to perform a job.
Time Duration 4 Months

Team Effort 6 Persons
Business Needs
Africa's pioneer online service marketplace for professionals provides business solutions for individuals and multinationals across Nigeria and Africa. It is a platform to create an open system to resolve the demand and supply gap that exists between professionals and their prospects and brings them all together to one single platform.
The global service platform that Proville provides enables people to have confidence in the professionalism and integrity of the service providers. They provide professionals with proven integrity, competence, and efficiency to do their job with professional acumen, craftsmanship, and perfection. The Proville required expansion in the existing system, to enable qualified and talented individuals to compete and provide global opportunities to local professionals around the world.
Due to its unique value proposition, Proville.net becomes a safe haven aligning with the future for both clients and professionals to engage and perform various services.
Strategy & Solution
Our team's continuous research and development allowed us to develop efficient, user-friendly, and features compatible online platforms, as per the desired frameworks and technologies. Our design team put their best efforts to build a unique UI-design as per the client expectation.
Our experienced and dedicated designers and developers worked on the project with proper planning, frame applicable online strategies, designed, developed, and maintained the platform. Our main focus was to deliver an online marketplace where collaboration and value realization is assured for all the stakeholders.
As a result of our best efforts, the service platform continued to become more user-friendly and come closer to delivering the perfect user experience. We were able to deal with each of these challenges and delivered the assigned project with all the perfection within the desired time period. The web portal:
- Controlled by administrator panel - Have all the required admin manageable modules - Multilingual management helps admin to add more languages to the portal

Client's Feedback
Flexsin Team did well on this project and I enjoyed working with them. They helped source additional..
Tunji Adegbola
Magodo GRA, Lagos, Nigeria
Business Outcomes
The idea was to design and development of an online service platform to provide global opportunities to local professionals around the world.
It is a huge web portal along with the mobile app and has many modules/functionalities with the admin panel. Dealing with the teams of various departments was also a big challenge during the planning and execution phase of the project. Our dedicated team of PHP/ MySQL developers makes use of industry best practices to deliver a robust, scalable, and flexible online service platform and were able to offer the following solutions to the end-users:
- Mobile responsive web portal
- A user-Friendly online platform with seamless navigation - Highly interactive - end-user can spend more time learning about a service
Screenshots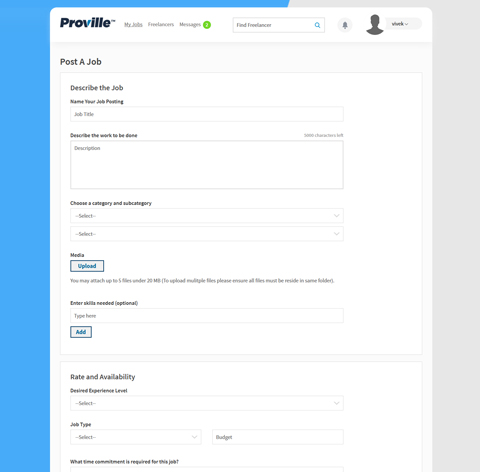 Success Stories
Discover our growing portfolio of digital products and technology solutions that accelerate business transformation for global enterprises and SMBs from different verticals.