Web Portal For Essential Health Fitness Products
Expertise:
Custom Web Development
Content & Document Management
E-commerce Solutions
Verticals:
Retail & eCommerce
Utilities
Technologies:
Wordpress
Apache/Linux
Woocommerce
Plugin Development
Active Campaign Email Subscription
INEVIFIT was founded by fitness professionals in late 2015 due to the need for better quality, more reliable product that are essential to living a healthy and active lifestyle. The INEVIFIT fitness professionals have been heavily involved in the fitness industry for the last decade working with nutrition, workouts plans, and basic active lifestyle living.
Time Duration 06 Months

Team Effort 05 Persons
Business Needs
The customer required to bring its business to online world by introducing an online portal where they can list all the products. We need developed an online portal with user-friendly features where customers can view all the products and place their orders easily. We are required to create personal account, catalog, filter searches and many features to deliver a well-designed and efficient online portal. The key requirements of the client includes:-
Catalogue to display all products
Social media integration
Security features
High resolution images
Variety of payment gateways
Easy to use website
Strategy & Solution
Our team developed an online portal to capture the attention of customers and facilitate them by providing the valuable content from other websites through RSS feeds and other links and suggestions or the recommendations which will be beneficial for the users. The users will be able to visit the website to view all products as well as become a member of the VIP Group so that they will be able to get the information regarding exclusive offers and promotional product launch.
We implemented the active campaign API for follow emails, amazon product reviews and feedback on the products.
Front-end
Our Front-end team adds new features and utilized latest technologies to enhance the website design that look more attractive and impressive. They first work on different design patters and build the best design and the elements to improve the portal visibility. The front-end features of the portal includes:-
High performance with fast speed
Seamless payment integration
Attractive visual design
Dynamic and robust
Features to meet privacy guidelines
Social Media Integration
Backend
Our front-end and back end developers were communicating during the complete project to maintain the interactivity and usability of the portal. We wrote codes and utilized MySQL database to manage the data for dynamic interactions.
MySQL database for maintaining data
PHP is used for scripting
Implement campaign API
Built in security and compliance
Development Process
Our developer leverages their expertise to develop a light weighted and high performance online portal. We were concentrated to bring valuable features to make the portal more user-friendly with easy and fast checkout process. Our team worked on different aspects of the project to meet all the client's requirements. They focused on:-
Requirements analysis
Architecture design
Quality Assurance
High level technical design elements
Client's Feedback
Flexsin Team. Dedication and Professionalism synergistically merged with a personal touch to achieve..
Dereck Rizo-Patron
CEO: Inevifit LLC, USA
Business Outcomes
With this online portal, client can sell their products to wider audiences that ultimately generate their good revenue. We successfully designed the portal and delivered it to the client while accomplishing all requirements. Some concrete benefits that client and its users earned after the successful completion of the portal are listed below.
Bring great opportunity to the users for finding wide range of products under one roof
Client list all its products and increase sale to generate good revenue due
Offer safe and secure way for payment
Allow client to be competitive in the market
Screenshots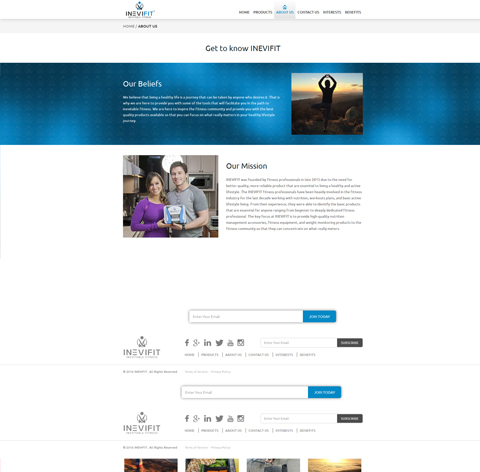 Success Stories
Discover our growing portfolio of digital products and technology solutions that accelerate business transformation for global enterprises and SMBs from different verticals.