Shopping Assistant Application
Experties:
Location / GPS Tracking App
Verticals:
Retail & eCommerce
Technologies:
Java/J2ee
Xcode
Android Studio
iOS
Android
Previly is a mobile app that is developed to assist users with your shopping requirements just in real-time. The purpose behind its development is to keep the users informed about their favorite brands and designers in real-time. This is, further, to help users to access accessories already sold at nearest stores and enjoy privileges geo-located.
Time Duration 06 Months

Team Effort 05 Persons
Business Needs
Client approaches us to build a platform that could tell and fetch all relevant information about one's favourite brands and designers, plus what accessories have recently been sold at the nearest stores to them.
However, the real challenge was to make everything happen in real-time. We put our best team to work and here are the features, the app today consists of:
High end content management system
Easy and quick user management
Comprehensive information of selected brands and designers
And all in real time
Strategy & Solution
According to client's and end users' needs, our team took up the development of Previly app covering all possible aspects of searching and reading about upcoming brands or latest designers' sale.
Client asked of us to put another privilege and it is to inform the users about latest accessories sold at their respective nearest places. The users are now able to create their personal profiles and make changes in accordance with their choices and needs. It has been designed in a way that it simplifies one's search for new brands and accessories.
Front-end
Today PREVILY is a successful app, catering to the needs of an end user for searching and getting the information on variety of brands, designers and accessories in real-time. Here are the features PREVILY consists of:
Easy and quick sign up process
Select your favourite apparel or accessory category
Find the largest selection of products from your favourite brands and designs
Review the product and get current information about its sale and stores
Backend
For backend, we server was node that would internally interact with dBs with a series of APIs. Moreover, this would make contact with push APIs for notifications and relevant stuffs.
That is a Magento based shopping mobile app
It is fully integrated with internal systems
And, we also made sure of real-time data tracking
Development Process
Our team consisted of 5-7 developers, 2 QA-specialists and a business analysts kept in full cycle virtual shop development, including implementation of the smartphone APIs, app development, development of app's control panel and incorporation layer development.
Our team worked in support with a shared project team that involved our client's internal team. Our team performed regular meetings and standup calls in order to maintain the interaction process, discuss the project progress and potential plans.
Deciding the running platforms for the app
Outlining an intuitive app design
Determining the size of the app
Plan a smart and smooth development process
Deciding on whether to add in-app wallet or not
Implementation, prototyping, testing and deployment
Client's Feedback
Thanks so much for all your work. I appreciate how thorough you were, and how clearly you realized a..
Pierre Grison
Founder at Previly, Paris, France
Business Outcomes
The success of an online shopping app is determined when the interface is simple with convenient search option. Menu consists of every brand, designer and accessories that an end user might be looking for.
Lastly, to make sure the notification works properly and there is little or no risk for app to crash in future.
High performance, smooth navigation
Make a search with highest quality images
Information is updated 24*7 and in real time
Never failing to update real time information on latest sales of accessories
Screenshots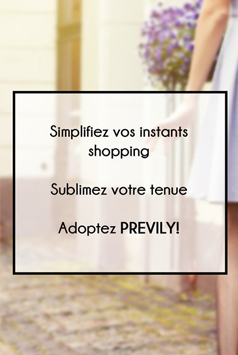 Success Stories
Discover our growing portfolio of digital products and technology solutions that accelerate business transformation for global enterprises and SMBs from different verticals.